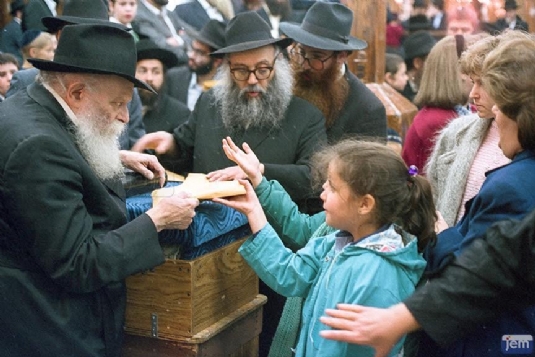 It was baschert! Even though Ettie Zaklos and I were very young, we headed in the same direction.
A day doesn't pass, that we are not reminded of our dear Rebbe, who ignited our passion and gave our lives such meaning.
****
Yesterday, marked the 26th Yahrtzeit - anniversary of passing - of the Rebbe, Rabbi Menachem M. Schneerson of blessed memory.
The Rebbe's love and care for every person is legendary.
The Rebbe would say, look at another human being not simply as a being but as a soul. If we focus on what makes us the same, the divine spark that is within every one of us, we stop allowing our outer differences to divide us.
The Rebbe made it his life's mission to teach every human being how they can find their connection to G-d and find their enduring path of inspiration. It was never about him.
The Rebbe embraced each person unconditionally and expected us to do the same. In today's world of division, we need this non-judgmental love and acceptance more than ever.
While the Rebbe of blessed memory was a global leader who inspired people worldwide to do good, and the driving force behind the largest Jewish outreach movement in the world, the impact and influence he had on Ettie and me is incalculable.
Young as we were when we arrived in Naples 17 years ago, with little but dreams, hope, faith and will to sustain us, we were determined to make a positive difference and contribution to this community. When we look back now we sometimes wonder if it were the naivete of youth, but on reflection, this is exactly what the Rebbe taught: harness your strength, turn ideas into action, you can and will do it.
The Rebbe's secret of success was the empowering of all those whom he met; he recognized their untapped potential, and expressed his total trust in their abilities.
let us take a moment to think about unleashing our own untapped strengths, as well as making the effort to recognize the unique, blessings, gifts, and talents of our family and friends, and patiently nurturing them.
Thank you Rebbe for infusing such powerful purpose in our lives and countless others.